Welcome to our November england water polo club news!
- November 1, 2020
October has been yet another topsy-turvy month with rules about training changing regularly depending on which tier your club is in, and now we are facing another country-wide lockdown starting on Guy Fawkes night which will close pools and suspend polo (at least indoors!) for 4 weeks.
As ever, the water polo community has shown great spirit and determination to train wherever possible and it is a great credit to all the coaches and helpers that so many clubs have been able to offer covid-secure training facilities which are so important to keeping the sport alive.
The pictures used in this News have been collected over the month from clubs in various tiers and it is appreciated that not all clubs are able to get together and train in the same ways.
It has been a month in which we have seen player power triumph as Sheffield Water Polo Club were finally able to get back to training at Ponds Forge.  There was a high profile campaign by aquatic sports both in Sheffield and the wider country to get the pool re-opened after it was shut during the first lock-down.  This month the club were back in their home pool, and hopefully will be back there again in early December when we hope pools will re-open.
Other clubs were also pleased to be back training in October.  Hillingdon put out the flags to celebrate their time in the pool!
Enfield has also been enjoying joint Senior and Junior training sessions.
Although by the end of the month, a different Tier for London meant that training at Enfield looked a little different! Some clubs have been able to enjoy a return to competitive games. Coventry hosted an u18 match against Northampton.  This was Northampton's first competitive match since lock-down.
It has been a busy month for Sevenoaks Water Polo Club.  It started the month with a feature article about the club's junior team appearing in Sevenoaks Sports & Wellbeing magazine.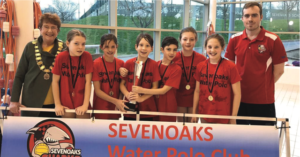 The club has also hosted a try-polo event in which it invited young people from age 10 upwards to give water polo a go for the first time.
And during the month, the club has been able use the bubble of six to have some three on three matches.
Thank you to Simon Tomlinson for telling us about his club, Taunton Deane in Somerset.
The club has been training hard since return to pool based training and played their first inter club u18 match this month when Taunton Deane Sharks defeated Taunton Deane Dolphins 14-10.  The match was played in a covid-safe way and the players were thrilled to get a taste of playing competitive games again.  A great time was had by all and a re-match is being planned for later in the year.  Do let us know how you get on once you back in the water.
Also in the news this month is Olivia Henderson, 17, who plays for London Otter, Mid Sussex Marlins and trains with Worthing Water Polo Club and Brighton Swimming Club.
She has been featured in Generation Tribe magazine talking about her love of the sport and how she has gained international honours with the England Schools Squad at U17 level, England at U17 level, winning bronze at the EU Nations International Tournament in the Czech Republic, and representing Great Britain at the Junior Women's European Water Polo Championships in Greece. Olivia is currently part of the U19 and Senior Women's England and Great Britain squads.
The planned outdoor summer season of water polo at Brockwell and Tooting lidos was another casualty of Covid-19.  However, the group are excited to announce that they plan to hold weekly recreational water polo 'skills and drills' sessions at St Joseph's College throughout the winter (covid restrictions permitting).  These coached sessions are open to all levels of skill and experience and for all genders, abilities and ages.
Whether you are a seasoned player or an absolute beginner why not come and give it a go. If you would like more details please contact head coach Steve Baker at waterpolo@slsc.org.uk
That's it for this month.  Even though our pools will be closed for most of November please continue to share the amazing things you are doing to keep your clubs going during these strange times.
If you have a story to share please let me know by emailing me at ah@waterpoloengland.org .