GBR U17 (2004) junior men LEN European Championships Qualifying Tournament Maribor, Slovenia June 2021 Results
GBR juniors lose out to a strong Romanian side in game 1 in Slovenia – June 24, 2021
Great Britain went down 18-6 against a ruthless Romanian side that featured two outstanding performances from Andrei Neamtu and Patrick Dumitru. Whilst their first game in European Qualifiers did not go the way Great Britain wanted, it is important that Claudio Palumbo's side pick themselves up before their must-win against Austria tomorrow.
Great Britain got off to a swift start. Just twelve seconds into the game, they scored a goal with their first attack. City of Manchester's Harry Bentham settled the nerves for the team in blue caps, scoring the first goal of the game. However, Romania scored four unanswered goals throughout the quarter, with the fourth coming merely two seconds before the buzzer, much to the delight of a large partisan crowd of travelling Romanian supporters.
It was important for GB to grab the next goal, and they did. Captain George Clover did well to win a penalty that Penguins Charles Kingsmill executed well. His low shot beat the outstretched arms of Romanian keeper, Alexandru Buliga. But Romania were successful in limiting what GB could do in attack, before their number eleven, Patrick-Mihai Dumitru scored two goals in two minutes to take the score to 6-2.
Then a rocket of a shot from Romanian's Andrei Neamtu from 8m gave GB's keeper, Ben Urquhart, no chance, as it slammed in off the right-hand post before bouncing in. Neamtu then added his third of the game from the pit, before Dumitru added his fourth of the game from the perimeter, to take the score to 9-2 at half-time.
Great Britain Head Coach, Claudio Palumbo, had his work cut out at half-time, with his side trailing by seven goals. As he had throughout the first half in the game, GB's keeper from Sheffield, Benjamin Urquhart, made a vital save in the first moments of the second half to prevent another Romanian goal.
GB needed to gain some momentum in the match, and they found inspiration from distance via Corran Bradley's well placed shot into the bottom left corner. But Andrei Neamtu of Romania was proving too much to handle for Great Britain, as he scored his fourth goal immediately after, taking the score to 10-3.
Richard-Sandor Orsos then made it eleven for the Romanians with an excellently placed backshot from the pit. A long ball over the top from substitute Romanian keeper, Horatiu Muresan found who else but Andrei Neamtu to convert his fifth in the game. Neamtu, who plays professionally for ASC Corona Brasov in Romania, was in ruthless form all afternoon, and Great Britain really struggled to deal with him.
Great Britain were quick to get a goal back in the final quarter courtesy of Corran Bradley – who had his second of the match on the top from a man-up. Harry Bentham then scored his second of the game to take the score to 13-5. But Romania found it easy to penetrate the British defense, with Ferhat Baglamis and Horia-Petru Nazarie both scoring in quick succession past GB's substitute keeper, Aarav Ganguli. Harry Bentham then had the ball in the Romanian net, but nearside referee, Aleksandar Nestorov judged the young City of Manchester & Bolton School player to have been inside 6m before his shot. Two minutes from time, Richard Orsos grabbed his hat-trick before Horia Nazarie made it 17-5 to the Romanians.
Thirty seconds from time saw Charlie Kingsmill score his second of the game but Romania would have the final say – with Vlad Nicolae Gherghe scoring the last goal of the game on a three on two, meaning the full-time score was 18-6.
Great Britain play Austria tomorrow morning before taking on Russia in the evening, whilst Romania also play two games tomorrow – also against Russia and then hosts, Slovenia.
18-6 (4-1, 5-1, 3-1, 6-3)
Match report: James Spencer Boyce
GBR juniors ease past Austria in game 2 of 2021 Euro Qualifiers – June 25, 2021
Great Britain have won their first game of the European Qualifiers in Maribor after easing past Austria 24-5.
Seven goals from Charles Kingsmill inspired Great Britain to a convincing win, giving Claudio Palumbo's side some much needed points before their game against Russia later tonight.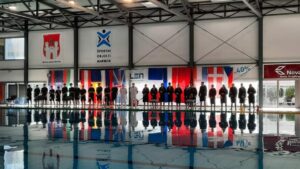 Kingsmill may be frustrated not to have scored eight, having hit the post from a penalty a minute into the first quarter, but he had another penalty opportunity minutes later that he converted shortly after grabbing his first from a man-up situation.
Great Britain then scored their third when Austria's Stefan Stojkovic was excluded in the last minute of the quarter, allowing Josh Luff to score his first of the tournament. After the first quarter, Great Britain had a three-goal lead, without conceding.
Great Britain then scored four unanswered goals to pull away from the Austrians – two from Andre Savic, and one apiece for Bradley Corran and skipper George Glover.
Six minutes into the second quarter, Austria finally broke their duck from a Harry Bentham major, but Great Britain responded in fine style from a James Blenkinship backshot. Bradley Corran then scored two goals in twenty-seconds to secure his 2nd quarter hat-trick.
Right on the buzzer, Marko Marinkovic scored Austria's second, but the first half as a whole was a good display from Great Britain, who had a 10-2 lead at the break.
In the third quarter, Austria scored first through Erol Ibrisimovic, but any chance of an Austrian resurgence was out of the question. Two goals each from Bentham and Luff, as well as more goals from Blenkinship and Kingsmill gave Great Britain six unanswered goals to take the score to 16-3. Ibrisimovic then added another for the side in blue caps before Theo Pliner converted his first goal of the tournament with the penultimate British attack in the quarter.
Baring a miracle from the Austrians, GB knew that had secured their first points of the tournament going into the last quarter. Despite this, Great Britain did not hold back. The period started and ended with two goals from Charles Kingsmill, taking his tally for the game to seven. Sandwiched in between the Kingsmill conversions were goals for GB from his fellow Penguin teammates: Savic, Pliner and Luff.
Great Britain cannot sit back and celebrate their victory, as they face group favourites Russia next at 4:30pm UK time. For Austria, they remain bottom of the group after two games.
Match report: James Spencer Boyce
A bruising encounter in game 3 for Great Britain juniors – June 25, 2021
Great Britain have suffered a heavy 31-3 defeat at the hands of a very strong Russian side in their third game in Maribor.
Great Britain were overwhelmed both physically and technically in a game in which the opposition dominated from start to finish. The credit must go to the Russians, who are a cut above all the other teams in the group, even schooling Romania in their earlier game by 14 goals to 3.
Russia's number four, Egor Kravchenko, was in formidable form, scoring eight goals in the game.
The positive part of Great Britain's performances came from the three goals that Claudio Palumbo's side scored. The first came from GB's top goal scorer at the tournament so far, Charles Kingsmill, midway through the first quarter. Bradley Corran then scored at the beginning of the second quarter to take his tournament tally to six. The U17's final goal scorer was courtesy of captain, George Glover.
Despite the defeat against a side fully expected not only to qualify from the group, but challenge to win the European Championships in Malta this September, the game will no doubt be a learning curve for many of our players going forward.
All the young British players will have to pick themselves up before their final game tomorrow against hosts, Slovenia. It will be a tough game, but one that GB can certainly compete in. The game begins at 18:00pm UK time.
Match report: James Spencer Boyce
A tough final game against hosts Slovenia brings our GB junior men's Euro journey to an end – June 26, 2021
Great Britain U17s have ended their European Qualification tournament in Maribor with a defeat by hosts Slovenia, 15-6 (3-2, 4-1, 2-1, 6-2)
GB have had some tough games against host nations in European qualifiers down the years, and this Slovenia side in Maribor would be no exception.
The teams were evenly matched for the first half of the game, but with Slovenia having already played one fewer game than Great Britain, they were far fresher. GB on the other hand had to play two games yesterday, one of which was against an extraordinarily strong Russian side – which Slovenia are yet to play.
Charles Kingsmill won the first swim off to set GB on their way, but the hosts opened the scoring.
However Kingsmill quickly silenced the home support with a cannon of a shot that kissed the left-hand post on its way in to make it 1-1.
Slovenia kept focus, feeding off the atmosphere by converting another extra-play situation. However, GB remained resilient, and Charles Kingsmill scored a silky backhand from the pit to level the scores at 2-2.
Then midway through the quarter, Slovenia took the lead again from the pit. It was Gasper Ficur who somehow managed to pull off a clever flick to give his side the advantage.
Slovenia would win the second swim-off, and it proved to be beneficial for them, as Slovenia's Jasa Lah rifled the ball past Ben Urquhart into the top left corner. Soon after, he added another from position four, putting the ball in the same place as he had just moments before.
At 5-2, Great Britain desperately needed the next goal, which arrived a few moments later when Harry Bentham scored on the counter. The player from Manchester found himself in space on the right-hand side with only the keeper to beat – which he did. Not long after, however, Great Britain were caught napping as Slovenia number 10, Aleksander Cerar slotted home his second of the game, to make the score 6-3.
With a minute to go in the quarter, Slovenia scored again; 7-3 to the hosts at the turnaround.
Great Britain won the swim off in the third courtesy of Jamie Bond but could only hit the crossbar on their first attack. However, when Slovenia's Nikola Rajlic flicked the ball away he was excluded, allowing Josh Luff to finish off a well-worked man-up on the left-hand side.
Slovenia, however, further added to their lead against a now tired-looking GB to make it 8-4. The score came when a quick pass to the post found Gasper Ficur, who finished calmly.
Slovenia added their ninth from a 5m penalty after a Harry Bentham exclusion. Great Britain trailed by 9 goals to 4 going into the last quarter.
Frankie Docking-Smith won the ball to give Great Britain possession first, however, Slovenia scored three unanswered goals.
With the score at 12-4, it was important that GB stayed resolute. They did, and Charles Kingsmill converted from close range from Max Hubrich's cross cage pass.
Hubrich then turned defender, and stopped Slovenia from a certain goal with a fantastic goal-line block to keep the score at 12-5.
Tim Kacic for Slovenia scored from a penalty fired into the top right corner after being impeded by George Glover on the counter, before 2 more quick goals made it 14-5 to Slovenia.
The game ended on a high for GB, with a clean bounce shot from the right by Jamie Bond into the net to end the game 15-6.
A magnificent effort was put in by the entire Great Britain squad throughout this tournament and fantastic to see us competing on the international stage again.
Head Coach Claudio Palumbo can be proud of all his players, who left everything in the pool and can now build on this excellent experience.
Thanks for all the support back home, and to our hosts for putting on such a great competition.
Match report: James Spencer Boyce