London Otter Women European League Padova, Italy Dec 2-4 2016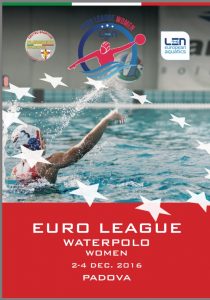 London Otter are heading off to Padova, in the Italian Veneto this weekend to compete in Group D of the LEN Euro League 2017 Qualification Round. The London team, the only English team to enter the competition, will face CN Mataro who won the LEN Trophy in 2016 as well as the 2016 Spanish Copa de la Reina, hosts Plebiscito Padova, previous Len Trophy 2015 winners and Lille UC, the French 2016 Champions.
The team will be lead by Captain Brooke Tafazolli, who played for Great Britain in the 2015 World Junior Championships.
Otter have a lot of strong young players this year – Lily Turner and Katy Cutler (2001), Sophie Jackson (2000), Kathy Rogers and Izzy Dean (both 1998)  all of whom played for GBR in the 2016 European Junior Championships in the Netherlands as well as Dani Brazier (1999) and Mhari Nurthen (1998) who went to the 2015 Baku European Olympic Games in 2015 and Anna Szyszko (1998).  The team management think it is very important as a club to give these talented youngsters an opportunity to gain experience of world class senior level water polo. It helps them to bridge the gap between the junior international games they play and the senior level we hope to put them in a position to play for England and Great Britain.  This is particularly important at the moment where there is no active senior English or GBR programme, although we are hoping this will change in the near future.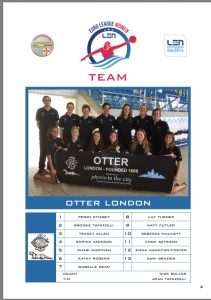 There are a number of more experienced players to add ballast to the mix including Peggy Etiebet who played for Great Britain at the 2013 World Championships and 2014 European Championships.
Playing in Europe is always a great experience.  The team are particularly looking forward to this competition as, having played Padova 3 times before, we know they have a very active traveling fan group, complete with drums and huge flags, so anticipate the atmosphere at home will be out of this world.
The games will be tough no doubt, but Otter plan to use them to practise their plays, improve conditioning and keep them game sharp ready for the BWPL Super Fives to start in January. The Otter women will be playing against athletes who train, as professionals, 3 times a day with strength and conditioning and physiotherapy support.
Peggy Etiebet commented, "We are realistic in the likely outcomes but we are still going out there to play our best and believe in ourselves.  There is no point in playing games that we would easily win – we learn nothing that way.   In my mind executing a perfect transitional defence from press to M zone against a top team is a better achievement with more lasting benefits to the game we bring back to the UK than limiting our horizons by not entering because we are afraid of defeat."
"Playing in Europe is always a joy", says Captain Brooke Tafazolli. "When the person you are marking lifts up her arm to shoot and you see the Olympic rings tattooed on her bicep you realise you are playing at the highest level you can as a club and that thrill of excitement is what makes the training on a rainy Monday after a full day of work worthwhile – and when you block the shot the thrill is even greater!"
London Otter are very grateful for the continued sponsorship of Physio in the City, the leading Physiotherapy, Spinal, Sports and Complementary Care Clinics in London, whose support has enabled the team to enter Europe. Water Polo England wishes London Otter every success in Padova!