England raced into an early 4-0 lead and it was an advantage they never looked like giving up.
Defensively sound and superb on the counter, England were too strong for South Africa as they controlled the rest of the match to finish up worthy winners.
Champions England played five, won five and dominated this tournament from day one, firing in an incredible 105 goals and conceding only 14!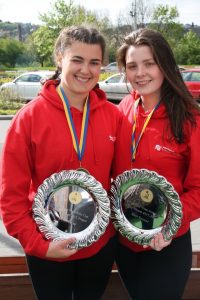 There were more reasons to celebrate during the presentations as England's Annie Clapperton was named top scorer with 27 and Robyn Greenslade was voted MVP.
Massive congratulations to all the players and coaches, and many, many thanks to all the support here and back home!
Enjoy the celebrations!
England U17s' gold-medal winning squad in full > Abbi Smith, Amy Potter, Annie Clapperton, Emily Pyper, Emmie-Rose Eastwood, Isabel Larder, Katy Cutler, Lily Turner, Milly Wordley, Molly Boniface-Ashton, Poppy Mayall, Robyn Greenslade, Sophie Jackson & Stephanie Whittaker.
Coaches > Nick Hume & Sue Webb. Team Manager > Eileen Shelvey.