GBR U17 Junior Women European Championships Sibenik, CRO August 2021 Results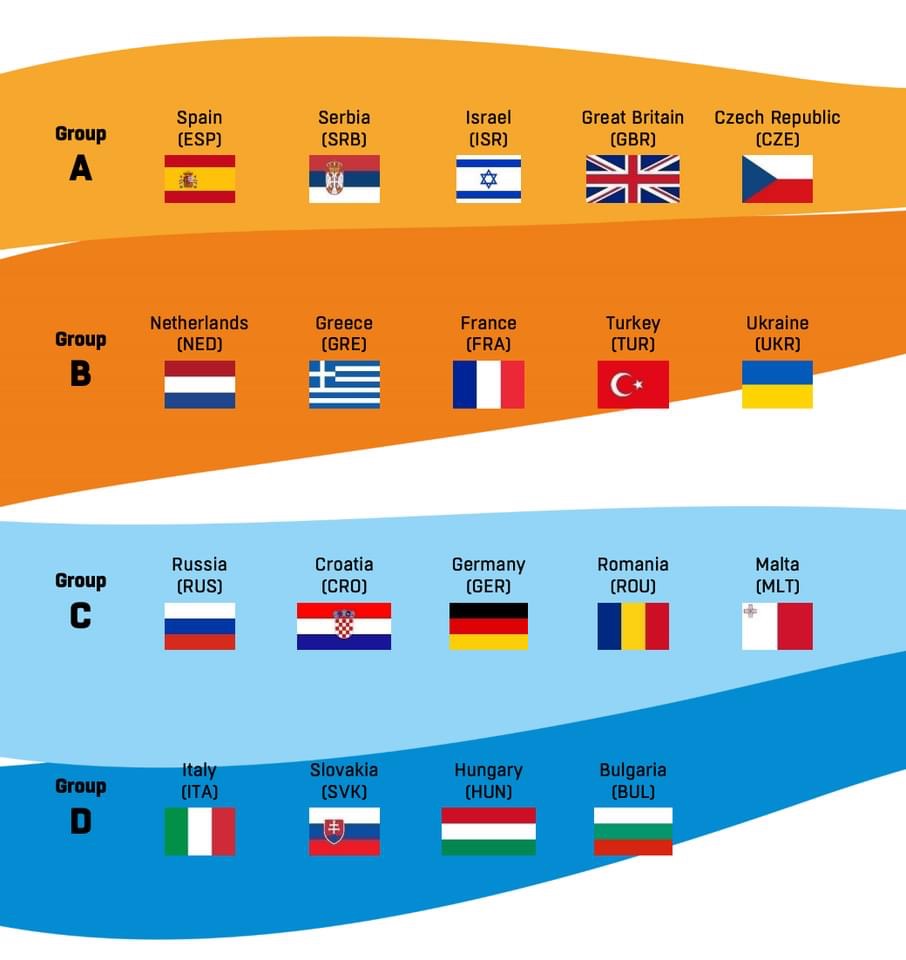 GAME 1 v Israel
Emily Crossley fired in a well-taken hat-trick, while Lucy Bullock and Anna Motley both scored twice as Great Britain U17s went down fighting 21-9 (8-3, 5-2, 5-1, 3-3) to Israel in their opening match at the European Junior Women's Championships.
Holly Rooney and Holly Toone were also on target as Chris Motley's team battled all the way against a powerful and clinical Israel.
A fantastic defensive effort from all the players, including both goalkeepers, Kaymi Angle and Sarah Mdaoukhi.
Great Britain's U17s conceded two late goals to suffer an agonising 11-10 (1-4, 2-2, 3-3, 5-1) defeat to Czech Republic at the European Championships.
Chris Motley's team got off to a great start, racing into a 4-1 lead, and were in front until the final two minutes.
Despite their best defensive efforts, Great Britain just couldn't hold on in the final quarter as a powerful finish from the Czechs saw them seal the win with just nine seconds remaining.
Game 3 v Spain
Great Britain's U17s lost 21-4 (8-1, 4-2, 6-1, 3-0) to tournament favourites Spain at the European Junior Women Championships.
Emily Crossley opened the scoring in the second minute of the match, but Spain – led by Tokyo 2020 Olympic Games star Elena Ruiz – proved too strong for a spirited Great Britain. Crossley fired in again before half-time, while Lucy Bullock and captain Lucy-Mai Helliwell were also on target for Chris Motley's side.
Game 4 v Serbia
Great Britain's U17s were beaten 18-6 (8-2, 2-2, 3-0, 5-2) by Serbia in their final Group A match at the LEN Junior Women's European Championships.
Anna Motley top scored for Great Britain with two, while Sofia Fountain, Harriet Dickens, Sarah Elli-Keeler and Caitlin Silk were also among the goals.
Game 5 v Turkey
Great Britain's U17 Junior Women battled their way to a dramatic 11-10 (3-2, 2-5, 4-0, 2-3) victory against Turkey at the European Championships on Thursday morning.
After a second quarter wobble, Great Britain regained their composure and responded brilliantly in the third to take a 9-7 lead going into the final eight minutes.
Turkey hit back to level the scores at 9-9 midway through the fourth, but a fine finish from Emily Crossley and captain Lucy-Mai Helliwell's second goal of the match helped steer Great Britain to their first win in Croatia.
Lucy Bullock (2) and Anna Motley (2) were also among the scorers, as well as Caitlin Silk, who produced a magnificent individual performance to top score with four.
Game 6 v Romania
Great Britain U17s have finished their European Championships campaign with a sensational 19-10 (4-2, 6-1, 5-4, 4-3) victory over Romania.
Chris Motley's team looked determined and focused from the start as they produced a magnificent performance to secure their second consecutive win in Croatia. Great Britain were strong in defence and clinical in front of goal, winning all four quarters and nine different players finding the net.
Holly Toone and Grace Turner both fired in well-taken hat-tricks, while Rose Griffiths (2), Lucy-Mai Helliwell (2), Sarah Elli-Keeler (2), Sofia Fountain (2), Anna Motley (2), Caitlin Silk (2) and Isobelle Robb (1) were also on target.
The result means Great Britain finish 17th. Overall, a brilliant playing and learning experience for all the players and coaches.
Massive thanks for all the support here in Croatia and back home, and also to the organisers for putting on a fantastic tournament