April Fools Day, and it's time for our club news!
- April 1, 2019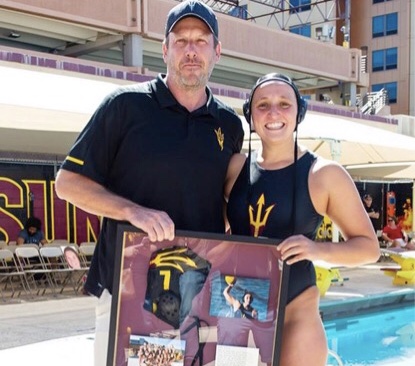 What an amazing month for water polo this has been!  The BWPL Super 5s Championship was broadcast live for the first time by the BBC on the red button and viewers were treated to a fantastic weekend of top class water polo.  There were some excellent matches with informed high quality commentary that made the whole weekend such a successful showcase for the sport. City of Manchester Water Polo club is in great form and became the first club to be crowned National League Champions in both the men's and women's events.   This achievement was celebrated on ITV Granada News Reports with interviews with Jade Smith, Women's Captain and Joe O'Regan, Men's Captain at Manchester Aquatics Centre.  Water Polo has become so popular it was even on a Question of Sport!  Can't wait for the new season to start in September!
The second major event this month has been the National Age Group (NAG) Championship qualifying rounds for men and women aged under 19 and under 17.  In the women u19 event, four teams competed in Group A, hosted at the Haberdashers' Aske's Boys' School in Elstree, Hertfordshire, with the Group B games taking place at Walsall Gala Baths on 30/31 March.
In the men's under 19 events City of Sheffield and City of Manchester laid down a marker to the other sides.  They both won all of their matches in the preliminary rounds held over 2-3 March to comfortably book their places in the next stage of the competition.
City of Sheffield were in action in Walsall and topped Group A with 10 points and a goal difference of plus 30 following their five matches.  Newton Abbot were second on six points as they had beaten third-placed Caledonia.  Bridgefield sealed the final qualification spot after winning two, drawing one and losing two of their five matches.
In Group B at Matlock, City of Manchester had a goal difference of plus 44 after winning all five of their games.  Watford took second spot, with Northampton and City of Leeds also booking their place in the next stage of the championships.  That will take place at Haberdashers' Aske's Boys' School, Borehamwood, on 23-24 March
In the U17s women's competition, City of Sheffield dominated Group B as they defeated Worthing 10-6, Kirkintilloch 14-4 and Otter 10-6.  Otter's better goal difference allowed them to take the second spot ahead of Kirkintilloch.  City of Liverpool remained unbeaten to take Group A with two wins and a draw.  Cheltenham took second place in Group A.
In the U17 Boys National Age Group City of Manchester, Nova Centurion, Watford and West London Penguin booked their place in the semi-finals, at the Liverpool Aquatics Centre.
Having bought Water Polo back to Lyme Regis Harbour three years ago Lyme Splash has become the largest, and only, Water Polo Sea Championship in the UK.  They will be running a water polo tournament in the sea with two floating pitches over the weekend of 3rd – 4th August.  As well as an opportunity to play great water polo, the teams and their supporters can attend a BBQ overlooking the beach at The Power Boat Club on the Saturday evening.  It is a fantastic event and the good news is that there are still places for teams wishing to compete so if you haven't got your application in yet you need to do so promptly!
Barnet Water Polo club is going from strength to strength.  Last year the club entered the London League in Division 3 for the first time and went on to win the league.  This year they have competed well in Division 2.  Congratulations to everyone who has competed for the club and to all the supporters, volunteers and helpers who have made it possible!
In a month of water polo records, we have one more to report.  Two water polo players from Sevenoaks Sharks have shattered the Guinness World Record for the number of consecutive water polo passes completed by a pair!  It was a case of third time lucky for Mark Freed and Charlie Exall as they broke the previous best on their third and final attempt at Tunbridge Wells Sports Centre.  They managed an impressive 95 passes – breaking the previous record of 65.  The rules of the challenge state that the pair were required to tread water for the duration of the attempt and each pass had to travel at least seven metres.  That's a tempting record.  Is there anyone out there who wants to challenge it?
Water Polo news has also spotted that England and Otter player Katy Cutler has been awarded Salisbury Journal's Athlete of the Year 2019 award.  Many congratulations!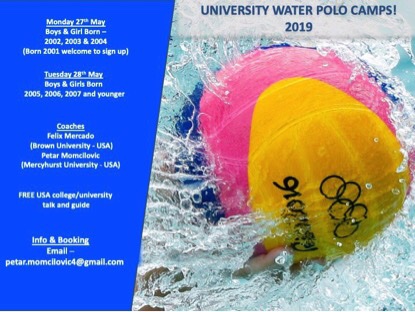 For all aspiring water polo athletes, University Water Polo Camps are running two half term camps in the May half term.  Camp 1 is on Monday 27 May and is for athletes born in 2002, 2003 and 2004.  Camp 2 is on Tuesday 28 May for athletes born in 2005, 2006, 2007 and younger.  The camps will take place at Haberdashers' Aske's Boys' School and will be coached by Felix Mercado (Head Coach of Brow University USA and assistant Women's coach for USA University Team) and Petar Momcilovic, now Graduate Assistant coach at Mercyhurst University, USA but previously Head Coach at Oxford University, a London Regional Coach and coach at Ealing Water Polo club.  Each camp will include a talk about playing water polo at American Universities.  For further information and booking please contact: petar.momcilovic4@gmail.com
In the English Schools (ESSA) Boys competition Bolton School have retained the U19 title.
And Trinity School won the ESSA Boys under 15 competition.  Very well done!
Hillingdon Juniors hosted a Friendly Water Polo Tournament on Sunday 17 March. They invited teams from Enfield and John Lyon School in Harrow. The intention was to give their older players an opportunity to compete.  A great event enjoyed by all!
Our team-mates in America
The women's season is now nearing its conclusion.  It is the tradition for each university to celebrate Senior Day at the last home tournament of the season to congratulate those athletes graduating at the end of the academic year.  This year Rosie Huck (City of Manchester Water Polo Club) will graduate with an Honours Degree in Geography from Arizona State University.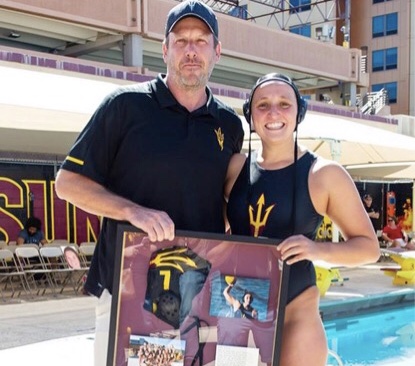 She has played for the Sun Devils water polo team for four years and enjoyed every minute.  Studying and playing water polo in America has provided her with opportunities that she could only have dreamt of when she flew out of Manchester airport on a rainy Manchester day aged 18.  She has played water polo with team-mates from all over the world and competed against the best teams in America.  She has travelled all over America with the team and to Australia on a team tour.  She has truly lived an American dream!  Rosie is the third female athlete to graduate in America in recent years.  Well done!
We hope you find this report of interest.  We aim to showcase what has been going on in English Water Polo clubs over the last month and flag up forthcoming events.  If you have any news that you would like to share about your club please contact me at ah@waterpoloengland.org