Our May Club News is Out!
- April 30, 2019
Let's start off with the news that the British Water Polo League will welcome four new teams in September after closely contested qualifying tournaments. In the women's competition Exeter and Watford both went through as new entrants. The men's newcomers are City of Chester (who return for the first time in twenty years) and  City of Newport. It is great to see new teams joining the BWPL, and showws the increasing enthusiasm for the sport in Britain. 
This month has also seen a number of clubs travel abroad to play water polo.  Watford went the furthest taking a squad of 13 aged under 15 players to Singapore to take part in the Pacer under 15 International Tournament where they faced teams from Australia, Sri Lanka and Singapore.  Watford won the opening match against Hwa Chong institute 7-6.  They lost to Sydney University 18-1 but came back to beat Sri KA 14-3 to come second in their group.  The team faced the Australian side Kavana in the quarter-finals where the score at the end of regular time was a nail biting 7-7.  The match went on to penalties but sadly the Watford players fell 13-14 to qualify for the 5th/6th position play off.   
Meanwhile, Bridgefield Water Polo Club Juniors travelled to Cyprus for a training camp with the Cyprus under 17 team.  During the intensive 5-day camp the teams also gained experience of the new rules. 
Back at home Hillingdon under 12s have been competing in the London League 3rd Tournament 
Kent over 40's have triumphed again to win a highly competitive four-team tournament in Basingstoke.  Kent began with a narrow 5-4 victory over a strong Oxford side.  They had a slightly easier match against Hatfield with a 6-3 victory to face the tournament hosts, Basingstoke in the final game. This was a tense match, which was goalless at half time. However, Kent made good use of their bench to seal a 2-0 victory and be crowned tournament winners! 
Watford Water Polo Club under 12s are the champions of the 2018/19 Winter League having won nine out of ten of their matches and all their final three matches.  Second spot was taken by Beckenham u12 and the third position by West London Penguins u12s.  Great league and well done to all who participated  
Congratulations to City of Chelmsford award winners Daniel (Top goal scorer) Imogen (member of the year), Scott (Commitment to the team) and John (support and enthusiasm).  They couldn't make the club Awards Evening as they were preparing for a competition so they received their awards poolside from Chelmsford and England coach Dean Walker.  Well done! 
Looking forward to the Summer, City of Manchester Water Polo Club is running another Summer Festival on 22 June.  This is a fantastic event of competitive water polo and is open to players born 2005+ and 2007+.  The matches will be 2 halves of 7 minutes in total and teams usually get 5-6 matches during the day.  There are 5 pitches, 3 for 2005+ and 2 for 2007+.  Both competitions are 7 a side.  It is a great opportunity for younger players to gain tournament experience.  If you are interested please contact the club at festival@comwpc.co.uk  
Another Development Tournament is being organised by City of Sheffield Water Polo Club.  The event will take place on Sunday, 14th July at Ponds Forge.  It is open to athletes born in 2006 or after.  Each match will be made up of two halves of 5 minutes each.  For more information please contact gabby.polomonsters@hotmail.com.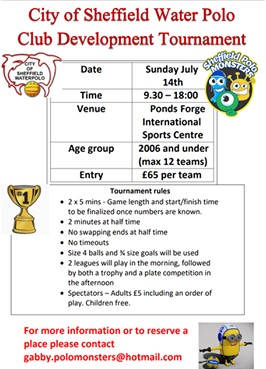 We hope you find this report of interest.  We aim to showcase what has been going on in English Water Polo clubs over the last month and flag up forthcoming events.  If you have any news that you would like to share about your club please contact me at ah@waterpoloengland.org