Our bumper June Water Polo Club News is out!
- May 31, 2019
Welcome to our June Water Polo News.  It has been another very busy month for club water polo, and we have tried to capture a flavour of the events that have happened for you.  If you would like us to feature your club please see our contact details at the end.
Liverpool travelled to the Czech Republic to participate in a tournament using the new rules.  First up they made short work of Plzen winning the match 5 -18.  Next they faced the Western Stars and after some great play the match was a draw at 9 all.  The next day the team faced Topolczany and beat them 8-28.    That meant Liverpool faced the Western Stars in the final. Liverpool was not going to lose this and achieved an emphatic 5-15 win making them the tournament winners.  Hayley Rice won the best goal-keeper award and Katie Hesketh won the top goal scorer award.  Great job girls!
In their first success of the month, London Otter won the under 16 and under 18 girls London League tournaments.  Very well done to them!
On Saturday 18th May, Nantwich outdoor pool played host to a fantastic Junior Water Polo festival.  Ten mixed teams of boys and girls aged 14 and under from across the North West region and further afield, played non-stop, back to back matches at the MANUP! Festival Junior Edition. Teams played in two group stages going into playoffs and semi finals, and an adapted set of rules with no halfway re-starts, corners or penalties ensuring that there was no let up in pace, gameplay was maximised and matches were exciting.
Bridgefield Water Polo Club (Liverpool) secured the Gold medal position beating runners up City of Sheffield Water Polo Club, with City of Chester Swimming and Water Polo Club taking Bronze.
MANUP! is bringing water polo out of the confines of leisure centres to showcase the sport in vibrant public locations. Further tournaments are planned this year, for Senior men and Women at Liverpool's Albert Dock in June and Media City, Salford Quays in August.  Connect with MANUP! on social media using @ManupFestival.
The Kent Water Polo Festival also took place on 18 May in an afternoon of action that saw fifteen teams compete in three different age group competitions.  It was the biggest Kent Festival on record showing that water polo is thriving in Kent!  In the under 12 competition four teams took part competing in two pitches running at the same time.  The tournament was close with every team winning at least one match.  Beckenham came top with Sevenoaks and Hythe coming joint second and Bexley taking fourth place.
There were five teams in the under 14 competition.   Beckenham took the top spot with Aqua Hythe in second place and Sevenoaks third.
In the under 16 competition there were a record six teams.   Aqua Hythe took the top spot with Beckenham second and Bexhill third.
The May Day Bank Holiday also saw the rescheduled National Age Group finals in Sheffield and what an outstanding day of water polo that was! (All images; Photography by Will Johnston http://www.willjohnstonphotography.co.uk)
The U17 Girls' title was won by the City of Sheffield who eased past City of Liverpool to win the match 18-9 with Sheffield's Anna Motley scoring 8 goals in the final!  Otter came third beating Cheltenham 17-11.
West London Penguins clinched the U17 Boys title after a thriller of a final against City of Manchester. Penguins ended up just edging out the northern side 9-8.  Great game boys! The bronze medal game was also close with Watford edging out Nova Centurion 11-10, to secure a medal.
Otter dominated the U19 games to earn their title with a decisive 14-8 win over Rotherham Metro.  London Otter, led by coaches Ncky Buller and Peggy Etiebet, are now the back-to-back winners in the U19 tournament, aided by Cecily Turner who scored 9 goals in the final. Coincidentally Lily is going to play at the University of California at Berkley next year, and we wish her the best of luck competing at this high level.  Liverpool won the bronze medal game 15-12 over Welsh Wanderers.  Congratulations to all players!
Newton Abbot won the boys U19 title with a 10-7 win over City of Manchester.  Special congratulations to goalie Tom Manly of Newton Abbot who won Best Goal-Keeper and MVP in the tournament.   Sheffield won the bonze with a decisive 8-4 win over Watford.
Congratulations to all involved!
The winner of the Jack Petchey Award for March 2019 was Georgia Mouratidi.  The award recognises outstanding young people aged 11-25 across London and Essex.  The citation states that Georgia has trained at the Club for five years where she is a hugely valuable player as she competes with intelligence and has the depth of experience to perform well in every position. This unselfish approach and flexibility allows the team to perform better.  Great praise.  Very well done Georgia!
The water polo community can always be relied on to help out those in need.  Liverpool have been without a pool after a light bulb burst into the pool during last month's NAGs.   City of Lancaster Water Swimming & Polo Club are just one of the teams to welcome Liverpool to their training sessions.
There are still a few places available at the City of Sheffield Club Development Tournament.  If you would like to participate please contact the organisers asap (details below) as places are going fast!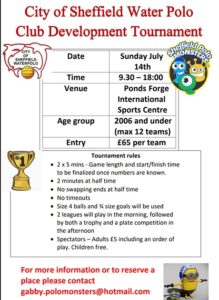 Our Teammates in America
 May saw the conclusion of the 2019 Women's National Collegiate Athletic Association (NCAA) water polo season in the U.S.  Big congratulations to the University of Michigan (Kathy Rogers and Sophie Jackson) and University of Hawai'i (Mhairi Nurthen) who both made it to the National Colligate finals this year.  Making NCAAs is a big achievement.  Well done!
Shout out also to the other British women playing and studying in America on completing another season. Megan Clarke playing at Marist College finished second in their conference just missing out on an NCAA spot and Rosie Huck who completed her collegiate career this year after four amazing years at Arizona State University.  Also Isabel Riches who has completed her first year at Brown University.
We hope you find this report of interest.  We aim to showcase what has been going on in English Water Polo clubs over the last month and flag up forthcoming events.  If you have any news that you would like to share about your club please contact me at ah@waterpoloengland.org