Welcome to our March England Water Polo Club news
- March 1, 2020
The big news story this month is without doubt the announcement by the British Water Polo League of a new competition – to be called the Champions Cup.  The top four men's and women's teams from the Super 5's will compete for the Cup with TV coverage a possibility.  The debut event will take place at Haberdashers' Aske's School, Hertfordshire over the weekend of 25/26 April 2020, and the winners will qualify for entry into the EU Nations Cup.
Meanwhile the Super 5s competition is continuing with City of Manchester dominating both the men's and women's events.
In British Water Polo Division 2, Tyldesley women have secured promotion to Division 1 next season where they will join other northwest teams, City of Manchester and City of Liverpool.
In the Liverpool & District trophy Bridgefield 2005s took the top slot in an exciting competition with Warrington, City of Liverpool and Chester.
In February, Durham Water Polo Club, Sedgefield Water Polo Club and Durham University came together to host their first joint charity tournament at Freeman's Quay. Players of all ages and abilities took part. While younger members competed in races and games needing water polo skills in the shallow end, teams of older players fought out tough and exciting games of mini polo in the deep end. Generous donations to a raffle meant the teams raised funds for NEPACS and Pink ribbon foundation whilst the University donated to MIND.
Worcester Crocodiles under 16s have been crowned junior league winners for the second year running.  The team lost only one of their 12 games and won the title after the final clash against Solihull.  Good job!
Jersey Water Polo is celebrating its 50th anniversary this year.  To celebrate @jsypolo will be holding an international water polo tournament at Havre Des Pas sea pool followed by a beer festival.  Please contact the club for more information on this event.
Congratulations to Essex, the over 50s Inter Counties champions for 2020.  Five teams competed in this year's event – Essex, Hampshire, Surry, Hertfordshire and Kent.  Essex emerged as the overall champions with Hampshire coming in second and Surrey third.
Congratulations to Andy Poore the Enfield Water Polo Player of the Year 2019.
President of the Bristol and West Water Polo League, Phil Whiting presented the 2019 medals and trophies to recipients of the league's divisional winners at the league's Annual General Meeting held at The Lamb, Worle, near Weston-super-Mare in January.
Martyn Thomas picked up the Dave Welshman Memorial Shield for Premier League winners Cheltenham Spartans; John Sissons received the Division 1 Shield and medals for City of Bristol Barbarians; Jack Tod received the Division 2 Shield on behalf of the University of Bath; Brian Steer picked up the shield and medals for Exeter City Ladies Team who were the Women's Division champions; John Sissions received the Junior Division Shield and medals for the First Division champions, City of Bristol A, and Dan Griffiths received the new Junior Division 2 Shield and medals on behalf of City of Newport.
The new Bristol and West Water Polo League season commenced on 17th February introducing a new points system: 3pts for a win, two points for a draw, 1pt for playing but losing and with a 2 point deduction for match cancellation to avoid teams postponing due to not being able to field a strong team.
Sevenoaks Water Polo Club is hosting its first ever primary school water polo tournament.  The event will take place on 11th March and all the local primary schools have been invited.  In the run up the club is offering free trials to anyone who would like to try the sport in advance of the tournament.  Great to see the club reaching out to a new generation of players.
We have been asked to mention the new email and Twitter contacts for the North East.  These are:
Email: nerwaterpolomanager@asaner.org.uk
SwimEngland NE Water Polo Twitter:  @WaterpoloNE
American Uni Water Polo News
We are very proud to have six English women playing in the Collegiate Water Polo league in America.
Lily Turner is certainly flying the flag for English water polo in her freshman year with  the University of California, Berkley.  The "Golden Bears" are currently ranked 7th in the Collegiate Water Polo league with lots of good goals from Lily who is playing an important part of the team this year with 8 goals already.
The University of Indiana, where Robyn Greenslade plays, have moved up the rankings since the last Water Polo news.  The team is now  in the 14th position and Robyn has scored 4 goals this season.
Hawai'i, where Mhari Nurten plays, are doing extremely well this season and are currently ranked 4th.
Kathy Rogers and Sophie Jackson are getting a lot of playing time with University of Michigan.  The team is currently ranked 7th.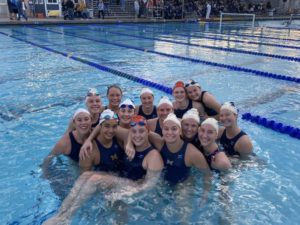 Thea Simpson has already scored 10 goals in her freshman campaign at St. Francis in Brooklyn.
Good luck with the rest of the season girls!
England Uni Water Polo News
We are very keen to cover University Polo in England as well as what is happening with our players in the US, but we need you to help us by providing us with the info!
So, if you are a player or supporter of an English Uni water polo we would love to hear from you. Please send us your news and plenty of pics, and we'll help to publicise all your successes – get in touch!
And finally, we have received a request from Ellie Jean who is doing a project to compare people's perceptions of how rule changes have affected the sport of water polo. She is looking at why water polo rules are consistently changing, and what effect this has for the sport in the future.   If you would like to participate in this project by completing a questionnaire, please use the link below.
https://www.surveymonkey.co.uk/r/YPZNXRJ
We hope you find this report of interest.  We aim to showcase what has been going on in English Water Polo clubs over the last month and flag up forthcoming events.  If you have any news that you would like to share about your club please contact me at ah@waterpoloengland.org