Welcome to our July 'not-quite-back-in-the-water-yet' newsletter!
- June 30, 2020
June was a strange month starting off with high hopes as we looked forward to swimming pools opening but ending in frustration as it became clear that swimming pools would not re-open on 4 July as initially expected.
However, the water polo community is nothing if not resourceful and it is a great testament to all the players, coaches and volunteers that our athletes have kept training and taken any opportunity to get into the sea, lakes and rivers.  As ever, we must remind you that it is important to keep alert and stay 2 meters apart, and of course be mindful of the risks associated with swimming in open water!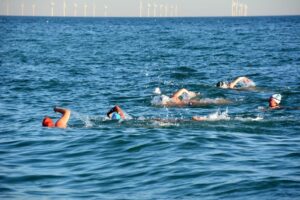 In Buckinghamshire, water polo enthusiasts have been spotted socially distanced in a river – complete with goal posts.  It looks great fun!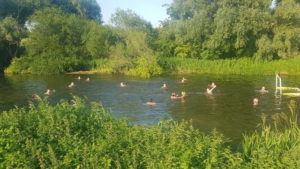 Down on the South Coast there has been sea-based action – carefully following local guidance.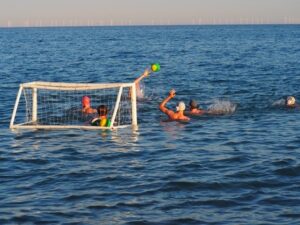 Up in the East Mids there's been some socially distanced egg beater practice!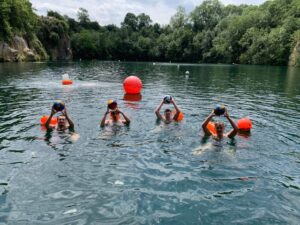 Meantime GB and City of Manchester player Lewis Daly gained national prominence after a photo of him training in Salford Quays was selected as one of the Guardian photographs of the week.  Lewis is also rowing for 24 hours on 18 July to raise funds for Bolton Hospice.
Other Manchester-based polo players have been spotted  in Sale Water Park – nice weather in the picture below but not so nice last weekend in the rain – didn't dampen the enthusiasm though!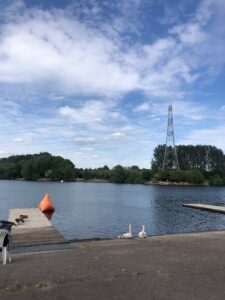 There have been a lot of on-line resources created this month, and some players have taken to producing their own training videos.  Others have devised interesting ways to train in garden pools.  As highlighted in previous months, clubs continue to train together using social media platforms such as Zoom.  We have highlighted Watford Water Polo's June challenge to encourage training which has netted some amazing participation numbers.
One of the positive things to come out of the pandemic is the new sense of community and we are proud of the contribution that water polo players have made.  In particular we would like to recognise Dan Atkinson and Emma Bartlett.  Dan is a member of the GB under 19 squad and a Chelmsford City player.  He has been working hard during the lockdown making masks for health and social care workers.
Emma is a GB player and member of the City of Manchester women's team.  She is also a qualified doctor training in Emergency Medicine at Royal Bolton Hospital where she has been working hard on the front line throughout the pandemic.  Thank you so much to you both and to everyone else who has gone the extra mile for others during the pandemic.
Looking ahead to brighter days, the 2nd Barcelona Masters Cup is due to place on 11 to 13 September in the iconic Montjuïc Olympic Pool.  Entries are accepted from mixed teams aged 30+, 40+ and 50+.  14 teams from 12 countries have already signed up.  For more information go to biwpa.com/masters
Last month saw Volunteers Week and below are pictured a small number of the army of volunteers who help the water polo world going in England.  Thank you to everyone who helps out!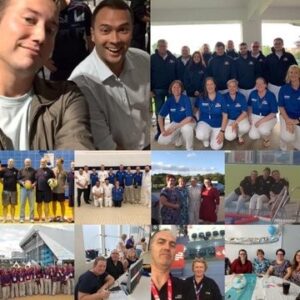 And, finally to remind you of happier days I couldn't resist showing these amazing Olympic team mascots made by Chloe Wilcox's talented mother, Margaret.  They followed our women's team on their amazing Olympic journey, and took pride of place poolside for all their games at the Polo Arena in 2012.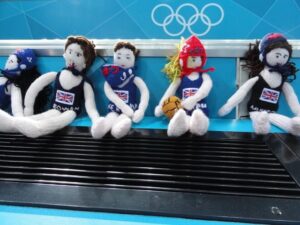 That's it for this month.  Please continue to share the amazing things you are doing to keep going during these strange times.  If you have a story to share please let me know by emailing me at ah@waterpoloengland.org .   Keep safe and remember…