Reason for optimism in our club news for May!
- May 1, 2021
Welcome to our May edition of Water Polo News.  This last month has given us reason for optimism as the pools have reopened at last! It has been exciting for the over 18 water polo community to dip their toes back in the pool for some public lane swimming, as well as for many juniors who have been allowed to train with their clubs. And to top it all off there are only 17 days left until our clubs can start senior training!
In case you've forgotten what training looks like, here are some lovely pictures of juniors back training at their clunbs.
Although seniors still cannot train indoors, a big shout out to all the people who have been braving the inclement weather to train outdoors.
Here is a very cold looking image of the seniors from Worthing Water Polo Club training at a local lido.
More recently we were have been saddened to learn of the passing of Roy Naisbitt, who into his final year could be seen swimming up and down Parliament Hill Lido.  Roy has graced the pages of Water Polo News on many occasions, and brought light to many in these difficult times.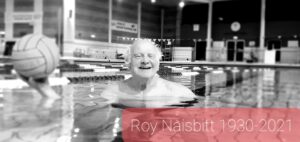 President of Enfield Water Polo Club, Roy, was also an internationally-recognised layout artist and animator who worked on classics like 2001: A Space Odyssey, Who Framed Roger Rabbit and Space Jam, and was a member of The Academy of Motion Pictures Arts and Sciences.  Roy will be profoundly missed by many in the water polo community, and our thoughts are with his family and friends at this time.
Enjoy Roy's final work in the 2011 indie short, 'The Last Belle' below
Our friends in the US
As we write this section, we head into an interesting and exciting weekend for the British women playing the US collegiate league. Most leagues have their finals this weekend, and it is all to play for with the prizes being tickets to the National Championship tournament.
Cecily Turner at University of California, Berkeley has had a great April, helping Cal comprehensively beat both the no. 4 ranked Arizona State, and no.16 ranked San Jose State. The team also drew extremely close to beating USC (the number 2 ranked team), marginally falling short at 10-9 to USC. An extremely impressive month and Lily was instrumental in her team's success.
Lily will be joining fellow Brit Robyn Greenslade at the MPSF Water Polo Championships this weekend where teams fight for a spot in the National Tournament. Robyn has also had a solid April playing for the University of Indiana splitting a double header against San Jose State and putting in strong performances against top 5 teams. Indiana enter the tournament as 6th seed and will play Stanford in the opening round. Good luck to both girls this weekend!
Mhairi Nurten at the University of Hawai'i is reaching the end of her time at the University, and in a typical Hawaiian fashion, her senior day was spent getting lei'd (being adorned with the traditional Hawaiian flower necklace known as a lei). Hawai'i go into this weekend as number 1 seed at the Big West tournament. We would like to congratulate Mhairi for her time at the University of Hawai'I and wish her the best of luck in the future.
Sophie Jackson and Kathy Rogers at the University of Michigan have already had their league's tournament and won, getting them a spot in the National finals held in mid-May. They beat Bucknell University 12-5 to win the spot with Sophie saving a penalty to help then earn their victory.  Kathy, who is also in her final year of University, celebrated her senior day this month wrapping up a successful career at Michigan. We wish her the best in the future.
That's it for this month.   Hopefully next month there will be lots of news as clubs get back to training; can't wait!  If you have any news you would like us to showcase please contact me at ah@waterpoloengland.org