Opening two matches played by the GBR senior women's development team in Serbia
- September 10, 2021
Great Britain have completed their first two matches in the opening round of the Danube Water Polo League in Serbia.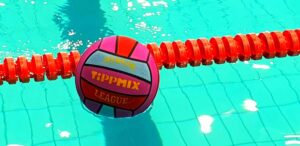 Nick Buller and Peggy Etiebet's GBR development team are taking on several professional sides from across Europe to gain valuable high-level experience as they start their journey towards their goal of qualifying for the 2024 LEN European Championships.
Peggy comments, "It's fantastic to show these athletes, and the ones at home, that there is a structured programme that they can invest in and put them in the best place to make a credible showing at the 2024 European Championships.
"It is a bit daunting entering an international competition against professional teams when our own league hasn't yet started and the players haven't played any matches for 18 months. However, we wanted to embrace the challenge and start now rather than wait another year.
"It's not been easy just getting here with logistical problems (covid, visa requirements and other illness) impacting on availability – two players were unable to attend having booked plane tickets as well as those who were unavailable due to work.
"Covid protocols for travel have been challenging and on behalf of the whole squad we would like to thank our Team Manager, Becci Henderson, for the immense work she has put in behind the scenes and to Karina Peters who has been our covid lead for the trip.
"We are approaching the Danube Water Polo League from a development perspective. It includes four/five weekends across Europe and it's our aim to use them as development opportunities to provide experience to all members of our squad.
"This weekend we have a young squad that includes 10 players who are 20 and under, who missed the opportunity to further their development with the U19s during the pandemic.
"This includes one member of the current U19 squad, and it's our strategy to involve members of the U19 squad with the senior women, to help bridge the transitional gap for these younger players and generate closer links between the squads.
"We will be looking to give more of these opportunities to others in that squad over the coming tournaments."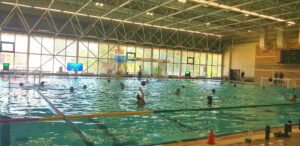 In today's matches, Great Britain started out with a battling 13-6 (5-1, 4-2, 2-1, 2-2) defeat to Serbian side Vojvodina, the current Serbian league champions and cup winners, who have been bolstered by the acquisition of two Russian players.
Peggy commented, "Against Vojvodina, we started nervously but improved quarter by quarter. The elements of the game we had practiced went very well, in particular the man-up with 4/6 scored. This bodes well for the future once we get a bit more training under our belts."
In today's second match, the GBR team lost 9-5 against WPA Bucharest (2-0, 1-1, 3-1, 3-2). Peggy said, "We feel we could have played better against Bucharest, but talking with their management it transpires that this was the Romanian senior women's team with many of their players playing professionally with 9-12 sessions per week."
Full GBR development squad for Serbia:
Alex Robinson • Rotherham
Mhairi Nurthen • Otter
Emily Pyper • Liverpool (Co-captain)
Amelia Peters • Sheffield
Tilly Dugdale • Cheltenham
Annie Clapperton • Manchester
Katy Cutler • Otter (Co-captain)
Liv Henderson • Manchester
Rebecca Mulcahy • Otter
Molly Boniface-Ashton • Liverpool
Izzy Howe • Manchester
Niamh Moloney • Caledonia
Erin Andrew • Otter
Emily Campbell-Lamerton – Otter