Thinking of applying to a US uni…then Kathy Rogers' story is a must-read!
- November 25, 2016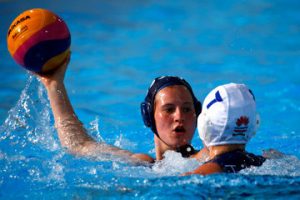 Winning a sports scholarship to study as an undergraduate to an American university as a GB water polo player can seem a daunting prospect, but with the help of Kathy Rogers, London Otter and GB water polo star, and her mother Jill, we have put together a short guide to help you on the journey.
Kathy and her parents have a wealth of experience of the process as Kathy has recently signed for University of Michigan, which makes them ideally placed to provide us with insight and helpful tips. We have broken the information down into sections for ease of reference:
Athlete's choice
Scholarships
Costs
The Application Process
Timescale for Applications
1.Athlete's choice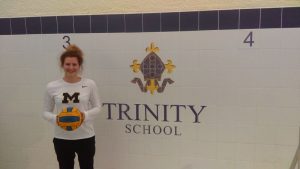 Obviously choice of university is a key decision which is entirely unique to the athlete. For Kathy, University of Michigan (the 'Wolverines'!) provides exactly the right blend of academics and sporting excellence for her. In 2016 Michigan finished 4th in the USA women's college polo champs and are the strongest women's team in their conference so always get to National Finals, and at the same time is ranked as the top State University in the US, and appears 21st in T.H.E. 2016 world university rankings. Make sure you choose a uni which provides the right blend for you.
2.Scholarships
As GB does not currently have a senior Olympic team competing on the World stage it is very unlikely that a British player will secure a 100% fees and maintenance scholarship as these are reserved for Olympians/future Olympians from USA/Australia, etc. As a guideline a 50-75% water-polo scholarship is possible for GB players.
A British player with good academic grades and high SAT scores (1200+ points/75 percentile) may also be able to secure a combined athletic scholarship and academic scholarship of perhaps up to 99%.
3.Costs without scholarships
When calculating the overall costs of attendance, less any scholarship, it is important to consider the cost of books + lodging + a meal plan as well as tuition. At most American unis 1st years (freshmen) tend to live in halls of residence with meals included whereas 2nd years (sophomore), 3rd years (junior) and 4th years (senior) often live in houses, and maintenance costs are therefore generally lower in those later years.
While the total budget required as an international student without a scholarship varies greatly dependent on the university and the course, nevertheless an amount of between $25,000 and $57,000 per year is a reasonable starting point. Specific tuition and other costs can be found on each university's website.
4.The Application Process
1. Video all higher level games in the 2 years preceding your application and then open your own YouTube channel. Put your highlights into a YouTube video and post it online, and categorise sections of your video to specific aspects of your play eg swim-offs, goals, blocks, etc.
2. Write a water-polo CV listing your experience/playing history. Include links to results and some photos. You may also want to get some testimonials from your coaches.
3. Sign up on the College Board website to take SATs or ACTs (multi-choice tests in literacy & numeracy, plus science in ACTs. SATs offer an additional Essay paper required by some universities). You can choose the date and venue for your tests. Get the practice papers and leave enough time to re-take as you may require a min score of 1200 points for an academic university or scholarship.
4. Ask your school to write your School Transcript – this has to be in a set format and cover your last 4 years of school (Years 10-13). It includes your grades, awards, etc
5. Register for National Collegiate Athletic Association (NCAA). This will provide you will an eligibility number. You also have to upload your SAT scores, school report and school transcript on to your NCAA portal.
6. Research Head Coach & Assistant Coaches at each university with a water-polo program (Princetown, Stanford, Berkeley (Cal), Los Angeles (UCLA), University of Michigan (Ann Arbor), Santa Barbara (UCSB), Irvine (UCI), Arizona State), Hawaii (Manoa), San Jose, Wagner, plus others)
7. Email the Head Coach of your chosen unis directly with your CV, NCAA number and send them the link to your video plus any testimonials, SAT scores and school transcript. If interested they will then email you and arrange a Skype call and hopefully offer a scholarship. If you are going to a championship, let them know as they often travel to Europeans and Worlds to scout players – they are only permitted to meet and speak with you after your final match. They may offer you a recruiting visit.
8. Once you've decided which offer to accept, apply to the university & pay the fee. Look at the courses they offer and decide on your major (& minor) subject(s) as you have to apply to a specific school at the university. When you apply you will need to name up to 5 (academic) referees who enter their confidential reference online. The application forms are long and time-consuming with various essay questions so ensure you leave sufficient time to complete.
9. The university will then ask you to sign your NLI (National Letter of Intent) plus accept and confirm your financial/ scholarship package e.g. Big Ten tender. Entry to the school/university is confirmed separately approximately 6 weeks after the application deadline date.
5.Timescale for applications
The initial window for applications is in November of upper sixth (year 13), with a later window in March for entry in Sept (Fall) after you leave school. US universities also offer a January intake.
We hope that this is of assistance to anyone considering studying and playing polo at an American university, and welcome any comments you may have. We are extremely grateful to Kathy and Jill for taking the time to assist us with this guide and providing such useful information. For more info about the life of a female polo player at University of Michigan this vlog is excellent http://www.mgoblue.com/collegesportslive/?media=533296
And more info about women's polo at University of Michigan can be found here http://www.mgoblue.com/sports/w-wpolo/mich-w-wpolo-body.html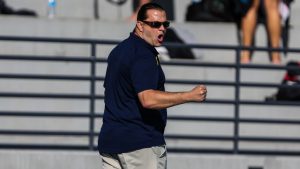 GO BLUE…as they say in Michigan!