Our December England Water Polo club news is out!
- December 1, 2021
Welcome to our December edition of Water Polo News.  November was a very busy month with action in the British Water Polo League and lots of other matches and tournaments.  We try to catch a flavour of them below.
City of Manchester women have continued to dominate BWPL Division 1 with an unbeaten run and a total of 144 goals!   They will now proceed to the super 5s competition in 2022 along with Otter (10 points), Coventry (10 points), Liverpool Lizards (8 points) and Sheffield Sharks (6 points).  Hucknall, Tyldesley and Caledonia drop to Championship 1.
City of Manchester Men have also won all their matches in Division 1.  They will be joined in the Super 5s by Cheltenham, Sheffield, Solihull and Lancaster.
This month we also saw action in the women's Division 3.  Southampton, Otter Lutra, Penguin Emperors, Watford and Cheltenham took the top 5 slots and will move forward to Championship 2 in the New Year.
Penguin continued to dominate in Men's Division 2 defeating Manchester Hawks in Winchester in what was their seventh win in seven matches.  They will progress to Championship 1 with Caledonia, Sutton & Cheam, Exeter and Watford.
After 18 months of inactivity due to the pandemic, it was good to see the London Winter Under 16 League has started.  The North Division tournament was played at Hillingdon.  The clubs participating were Watford, West London Penguin, Hillingdon and Northampton.  The next tournament is 6 Feb 2022.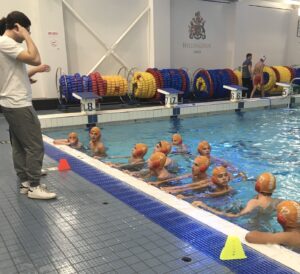 Worthing had a very successful first tournament in the Southern Division of London Winter League winning against Beckenham (8-2), Lewisham (12-2) and Croydon (15-1).  This was a great confidence boost for the team which won the under 14 competition in March last year.
Belated congratulations to Danny Hanlon of Sevenoaks and Invicta who completed a solo swim across the English Channel in September.  He set off from Samphire Hoe, Dover just before 9 am and arrived in Wissant, France 14 hours and 31 minutes later.  An amazing achievement.  Very well done Danny!
Good to see a piece on Weston-super-Mare featured on ITV News.  The club are looking to boost the number of women in their squad and to recruit more junior players.  The club hosts mini polo, junior polo and senior men's and women's teams.  The feature included an excellent interview with Chief coach Mike Coles on why water polo is such a great game! Head here to watch the TV clip > https://www.itv.com/news/westcountry/2021-11-11/the-toughest-sport-in-the-world-is-looking-for-more-players
The annual London/South East region Under 16 (mixed) water polo tournament took place this month.  Teams competed from Sussex, Hampshire, Middlesex, Kent and Surrey with Sussex taking the top spot.  Well done to them!
Great to see City of Bristol introducing their under 13s Development Squad.  The squad played against Exeter and after a tight first half went on to win with an impressive 22-13 score.  Excellent result!
Also this month, Swim England London organised a development tournament for under 14s.  Great to see Hillingdon putting out a team including 5 players who were competing for the first time.
Congratulations to Duncan Holmes who has been awarded the prestigious Dave Warriner Memorial Trophy, which recognises outstanding service to the BWPL and to water polo in general.  Duncan joined Lancaster Water Polo Club in 1968 and played at a junior and senior level.  Injury brought a premature end to his playing career in 1995.  He went on to become a team manager and table official.  He was a table official at the 2012 London Olympics.  Very well deserved Duncan!
That's it for this month.   All that remains is to wish you all a very merry Christmas!
 If your club has any news you would like us to showcase, please contact us at ah@waterpoloengland.org