Our April England water polo club newsletter is out!
- April 1, 2022
Welcome to this month's Water Polo News.  It has been a busy month with British Water Polo League events dominating the calendar as teams fight for promotion and the Super5 competitions reaching their conclusion.  We have also seen the conclusion of the London Water Polo League and many local club events.
At the outset we would like to offer massive congratulations to the City of Manchester Water Polo club for pulling off a double Super5s victory for the third year in a row.  Both the Men's and Women's senior teams have played exceptionally well with the women dropping only one game in the whole competition.   The Men officially secured the title earlier in the month, but the trophies were presented to both teams at the event last weekend.  Very well done to all the players, coaches, team managers and everyone else who has made the victories possible.
Otter Lutra are the champions of the BWPL women's Championship 2.  Again, they have run an impressive campaign and it is great to see them celebrate their victory.
Congratulations go to Penguin Emperors who have won promotion to BWPL Women's Division 2 Championship.
Bridgefield topped the Men Championship Division 4 with Sedgefield coming a close second in their first season in BWPL
Building on the success of the senior team, Manchester Hawks took top spot in the Men's Championship 2 competition defeating Otter and Worthing at the final weekend of play to secure the trophy.
In the Women's BWPL Division 1, Tyldesley beat City of Bristol 19-8 to finish runners up in Division 1.  They are looking forward to next season in Division 1.
We have featured the British Army water polo teams over the last year or so.  This has been a great year for the Men's team as they have secured their highest finish yet coming 4th in the Men's Championship 3 competition.
In the BWPL Men's Championship Division 1 competition Penguin's senior Men's team took the trophy.  Very well done!
Congratulations to Worthing under 16s who comfortably secured the London League Championship title for their age group.
There now follows a bit of a feature on Hillingdon/Penguin Water Polo club as their junior teams have been in action a lot this month. and we were very pleased to be told all about how they've been getting on!
First off, it is great to see Hillingdon U14s enjoying competing in the Hillingdon water polo tournament.  They won their games against Croydon and Lewisham and narrowly lost out to Watford.  Well done lads.
Meanwhile the under 18 Men's team have been competing in Division 2 of the London Water Polo League where they beat Chelmsford and Hythe Aqua but lost to Croydon.
And the mixed under 16 team competed in Division 2 of the London Water Polo League with two well deserved wins against Chelmsford and Hythe Aqua and a narrow loss to Croydon.
Special congratulations go to the Hillingdon Penguin under 12 team who competed in Division 1 of the LWPL.  They had a close win against Lewisham, a draw against Sutton & Cheam and a loss to Latymer.
And finally, we would like to say hello to the girls' team who look to be really enjoying the sport!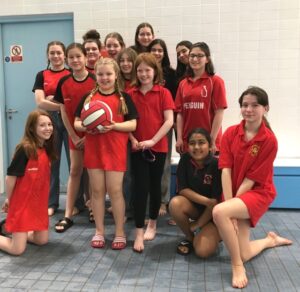 That's it for this month's round up of club news.  We are always happy to publicise news from clubs around England, and also delighted to feature your club in detail, so if you have any news you would like to share or can supply us with info about what your club is up to plus pictures of your club and players please get in touch by emailing ah@waterpoloengland.org.
Help us spread the word about our great sport, and your club!