One of our polo family, Anna Goncharenko, tells us her harrowing story from Ukraine
- April 2, 2022
The Russian invasion of Ukraine has shocked the world. Thousands of people have tragically lost their lives in the conflict, which has also resulted in millions of displaced Ukrainians having their families and their livelihoods torn apart.
Those who have been 'fortunate' enough to flee the country still face massive difficulty; a shortage of food, clothing, hygiene products, money and most importantly, somewhere to call home. Those who have bravely stayed to defend their country stand to make the ultimate sacrifice.
One small but redeeming feature of the crisis in Ukraine has been the heartening response from the international community in providing support to the Ukrainian people, and as ever, the water polo community has pulled together in an exemplary way.
Several water polo clubs in various European countries have admirably sent huge contributions of clothes, bedding, toys and other essential provisions to those who need it most. I hope this article can provide some much-needed hope to focus on the enormous acts of kindness and stories of incredible bravery, that we have seen from those within the water polo community. And on that note, I would like to introduce you to Anna.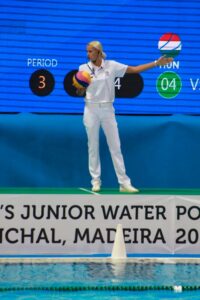 Anna Goncharenko is a LEN approved referee, and a fine one at that. She is a proud Ukrainian from Kharkiv, the country's second largest city (situated in the North-East of Ukraine) and the location of some of the most intense and deadliest fighting in this ongoing conflict.
"We left Kharkiv, our homeland, on the 5th day of the war, when two bombs landed near our apartment" Anna told me when we spoke earlier this week.
With the deadly threat of bombing looming large, Anna made the tough but necessary decision to flee to Western Ukraine alongside her husband, Artem, who is the Head Coach of Ukraine's National Swimming Team, and her two young children, Matvii (13) and Timofei (who is only a year old).
"We just took the kids, some clothes and left our flat. It took us 3 days to get to the west of Ukraine. The trip was very hard, there were a huge number of cars. After the journey, my younger son could not walk for some days. But he is alright now."
Nothing could prepare anyone for the journey that Anna and her young family were about to undertake, even if she was used to making long trips away from home as part of her role as an elite international referee.
As a vastly experienced and respected official, Anna has taken charge of a vast number of Euro League, World League, and Junior World Championship matches. Anna lived in Malta for 5 years, refereeing the Maltese BOV championship there, only returning to Ukraine when her second child, Timofei, was only 7 months old.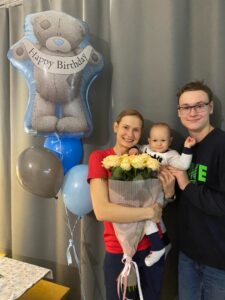 Before the war, things were going well for Anna and her family. "We decided to come back from Malta (to Ukraine) because we missed our homeland and our relatives. We reconstructed our flat, bought a new car and were going to make another house, but the war destroyed all of our plans. Just thank God we and our kids are alive."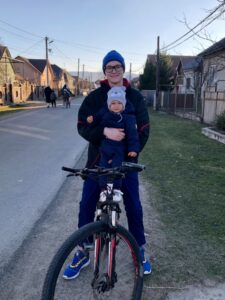 Despite everything going on around her, you could sense Anna's passion and excitement when talking about water polo. It was a nice thought that reflecting on her time in the sport gave Anna a brief moment of escapism in otherwise horrible circumstances.
"I became a referee because I felt water polo is my life and I want to continue to be involved in it. I started slow, but after a few years I got a very successful career. Before then, I played water polo for 15 years, and for 11 of those years, I was a member of the Ukrainian National team", something that Anna conveyed proudly.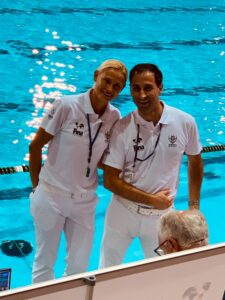 Anna was born in 1984, back when Ukraine was part of the Soviet Union. "I was playing in the Russian Championship at Volgodonsk when I was 17. The Atmosphere was wonderful. My father was playing for CSKA Moscow with Petre Mshveniradze* and he has a lot of friends there."
As a consequence of the Russian invasion, FINA and LEN felt it appropriate to exclude Russian athletes and clubs from competing in their respective competitions, a step that Anna reluctantly supports, "I always thought that sport should be out of politics. But when a government is killing other athletes, destroying swimming pools and athletic tracks, what else can you say?"
While analysts suggested that Russia may have been plotting some sort of military operation for months, for most of us, including Anna, the invasion came as a total shock. "I couldn't imagine something like this", she said.
"We all thought the invasion would not last so long, but the Russians decided to destroy our cities, especially in the East, where the Russian speakers live. I never thought that our neighbours, our friends, can do this."
The Ukrainian people have been remarkably courageous throughout this crisis and the Ukrainian water polo community is no exception. On the first days of the war, several of Ukraine's national team players worked throughout the day helping and supporting the armed forces in delivering food and supplies.
Anna explained to me that the Ukrainian swimming and water polo federation are moving athletes abroad, but other people were chipping in to help support Ukraine's young athletes. "Thank you to all the countries that are helping. Thanks to them, the children can live and train like in a normal life. I could not imagine that we have such wonderful friends all over the world."
Unfortunately, however, the water polo community did suffer a tragic loss when the former National Team Captain, Evgeny Obedinsky (39), was killed in a Russian bomb attack on 17th March in the city of Mariupol – a place where Anna once played water polo. Sadly, Obedinsky leaves his twelve-year-old daughter, Kira, an orphan, after her mother died when she was a baby.
Anna knew Evgeny well. "It was very painful because he is just one year older than me. We played at the same time, and I actually refereed him a lot. He was a very kind and polite person. Just a few months ago Obedinsky had brain tumour, but he could throw off the illness. He was a very strong man."
In many ways the question is futile and unimportant, but I did ask Anna if she would be back on poolside, taking charge of a water polo game anytime soon. With a wry smile, she hinted "I hope so. Maybe soon."
Anna is, for now, still stranded in Ukraine. "We are on the west of Ukraine. Our relatives kindly invited us"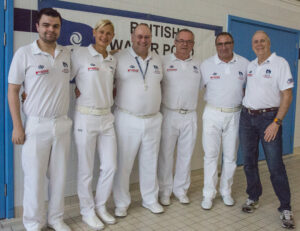 However, moving forward, Anna and her family have been looking at their options, particularly here in the UK – a special place for Anna. In 2018, Anna refereed the BWPL Super 5's Finals, and before then, had helped develop and educate British referees when they visited Malta. "In the UK I feel like I am at home, everyone is so kind. People in water polo in the UK are all volunteers. They do not do it because of the money, but because they like the sport. The atmosphere is always friendly there."
"I have applied for a Visa to the United Kingdom. We have friends waiting for us there. We are awaiting confirmation."
When I concluded the interview, I asked Anna what she hoped for moving forward. Her message was clear: "Do not be indifferent. I could never imagine that war was this scary. When you can do nothing but just cover your children during the bomb attacks. So please, let's bring peace to all families and give the bright future to our children."
I would like to thank Anna for taking tine to speak with me, and I wish her and her family all the best in their dream of settling in the United Kingdom. I have been inspired to share her story of her family's bravery, fearlessness and strength during this extraordinarily difficult time.
Anna was speaking with England Water Polo's James Spencer-Boyce

Image credits Anna Goncharenko and BWPL/Trevor Hyde
* Mshveniradze was a legendary Russian water polo player, who won Bronze in Melbourne 1956 and Silver in Rome 1960 and played in the infamous 'Blood in the Water' match.