Welcome to our midsummer England water polo club news!
- June 30, 2022
June was another busy month.  The flagship event was of course the British Water Polo Championships, which took place over the weekend 18/19 June.  The venue was the spectacular outdoor Sandford Parks Lido, Cheltenham.  Unfortunately the weather wasn't kind throughout, but it takes more than a bit of rain to dampen the enthusiasm for such a great event! There were 6 teams in each of the men's and women's events together with a band of hardy supporters.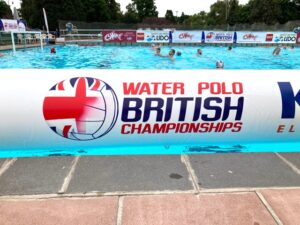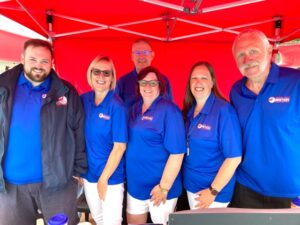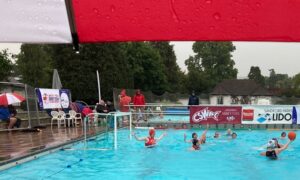 The women's event saw the six top clubs descend on Cheltenham for this showcase event.   The teams came from City of Manchester, Coventry, City of Sheffield, Otter, Liverpool and Hucknell.  London Otter were very strong all weekend and defeated City of Manchester 12-5 in the gold match to become the 2022 British Women's Champions.  Very well done to Otter.  The bronze position was taken by City of Coventry.
In the men's event teams came from Cheltenham, Solihull, West London Penguin, City of Manchester, City of Sheffield and Invicta.  Cheltenham beat City of Manchester 16-8 in the final to become the Men's British Champions. The bronze position was taken by Invicta.
London Penguin are celebrating their 100th anniversary this year.  You may have seen their Penguin100 series of posts representing stories from Penguins past and present, sharing what being a member of the Club means to them as they celebrate their Centenary.  This month we have been pleased to see a post by Lize Crone, a player with the club's junior section, setting out the development of girl's water polo at the club through her own journey.  It is an excellent read.  Well done to Lize for writing it and well done to Penguin for supporting the growth of the women's game.  Its great to see that you have competed together in the U16 London Water Polo League and that some of your players have represented the region at the 2021 U16 Inter-Regionals in Walsall and the 2022 U18 Inter-Regionals in Blackpool.  Your story will inspire other girls to join the sport.
The British Army water polo squad have celebrated their best ever season in BWPL 3 with a training tour in Malta this month.  The venues look amazing.
Back in the UK, Hucknall have hosted a mini tournament with City of Manchester and Bolton school.  A great afternoon was had by all with some real young stars of the future shining through.
Summer is a time for players to enjoy training and competing in some of our amazing English Lidos.   South London Swimming club certainly know how to enjoy their sessions at Tooting Bec and Brockwell Lidos.  They are also looking for new members.  If you fancy training outside for the summer please contact slsc.org.uk/water-polo for more information.  Below are some great pictures that capture the joy of participating in outdoor water polo.
Following the recent successful men's Home Nations Tournament in Coventry, there are plans in hand to run a regular men's & women's Home Nations event. In connection with this, we have been advised that there was a Home Nations water polo trophy which was last won by an England men's team in the mid 1990s called the Mackeson Cup. It would be great to revive the competition and also reunite it with the Mackeson Cup so any information about it, and particularly the last known whereabouts of the trophy, would be gratefully received, anonymous tipoffs very welcome!
Swim England are keen to stress that all the aquatic disciplines are eligible for all awards, and that they have introduced a Club of the Year for each discipline so there a guaranteed spot for Water Polo Club of the Year. So, if you are proud of what your polo club is up to why not click on the link above and get your club the recognition it deserves!
That's it for this month. If you have any news you would like us to showcase please contact us at ah@waterpoloengland.org.   We really want to help promote your club!