Welcome to our August England water polo news!
- August 1, 2022
What a good month to play a water-based sport – especially for those who have had access to an outdoor pool! As the temperatures soar what better way to cool off than train in one of our open-air lidos or travel abroad for some European sun.  Wherever you are spending your summer we hope that you are having a good time and are keeping safe.  Below we highlight what some of our clubs have been up to in July.
BWPL has been celebrating 60 years of the men's national league and 35 years of the women's league.  They put on a flagship event at Parliament Hill Lido which included a play off between the GB 2012 men's Olympic team and the current GB men's team.  Other clubs also played matches in the event. The weather was glorious as was the polo!
ManUp! put on another festival in Liverpool Docks on 23 July.  We see that Worcester Crocodiles put in a men's and women's team and they came 2nd and 4th respectively.  Well done to them, especially as it looks rather chilly!
Watford Water Polo made their annual trip to Croatia to train at the fabulous Kantrida Swimming pool complex as the guests of VK Primorje.  The pictures of the pool look amazing – as does the polo!
A Worthing senior men's team travelled to Guernsey to participate in an invitational tournament played in the unique setting of a tidal sea pool.  Despite the cold water, the team won all 3 matches winning 6-4 against Jersey, 13-2 against Basingstoke and 8-2 against Guernsey.
South London Water Polo are continuing to train at Brockwell Lido throughout the summer.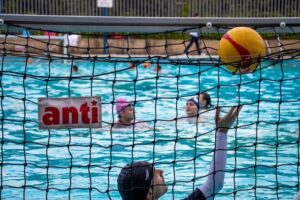 In fact they are in need of a new coach and would be very grateful for someone to help them with a few slots coaching on Tuesday nights at Brockwell over the summer or at their Sunday evening sessions in West Norwood from Sept onwards. If you are interested or know someone who might be, please get in touch with SLWP directly or message us and we will pass your details on to them.
They also train at Tooting Bec Lido.  We are grateful for (and a bit envious of) the pictures!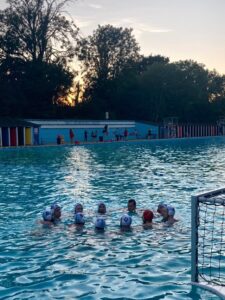 The annual Inter Service Water Polo Championship took place in July.   Army Water Polo will be well known to the water polo community for their progress in the BWPL.  We were pleased to see that they took the crown after beating the RAF 17-1 and the Navy 24-6 in the final.   Congratulations and we look forward to seeing you compete in BWPL in September!
Some exciting news from the Southwest.  We understand that the Management Committee of Bristol & West Water Polo League have agreed to set up two new junior water polo leagues.  The first is for a mixed Under-17s League, which will be played over a winter period, from 1st November 2022 until 31st March 2023, on a home and away basis. The age of competitors for this league will be with a year birth date of 2007 as of the 31st March 2023, and will be open to both girls and boys.
The second league is for a mixed Under-15s League which will be played from Monday, 13th February until 31st October 2023.  It will be set up on a regional basis with clusters of clubs based on their geographical locations, e.g. Southern Division (Devon), Welsh Division (South Wales), Northern Division (Bristol & Gloucester area), and Eastern Division (Dorset Clubs).  The top team and runners-up of each region will then play-off at the end of the season to decide the league champions, and receive a shield, the Huw Rose Memorial Shield and medals.  Age group for the Under-15s league would be 2009 year birth as of 31st December 2023.
That's it for this month's round up of club news.  We are always happy to publicise news from clubs around England so if you have any news you would like to share please let us know by emailing ah@waterpoloengland.org