Our club news for October is out!
- October 1, 2023
Welcome to England Water Polo's Water Polo News in which we try to capture all the news and events affecting water polo clubs in England over the last month. We rely on clubs telling us their news so if you have something you would like to tell others about please do let us know (see contact details at the end).
September has been a busy month as clubs finish off summer breaks and get back into regular training and competition. It has been great to see that some of our top teams from last season will be competing in the Len Challenger Cup in which they will take on teams from across Europe. The draw took place in Netanya on 11 September. In the Men's event there will be 19 teams split into 4 groups. City of Manchester Men are in Group B and will be off to Mouscron, Belgium to play Carouge Natation, Banja Luka, ODYU SC and RD Mouscronnois. Polytechnic are in Group C where the matches will be played in Istanbul. They will be facing Galatasaray, KVP Novaky and Sporting Clube de Portugal. All the matches will be played on 19-22 October with the top two ranked teams from each group progressing to the quarter finals.
The women's event will take place at the same time. There are 14 teams in the event divided into 3 groups. City of Manchester are in Group A and will be off to Novi Sad, Serbia to play ZAVK Mladost, VK Jadran Split, VK Vojvodina and ODTU SC. Otter are in Group C and will play their matches in Burgas, Bulgaria. They will play Sirens ASC Malta, Clube Fluvial Portuense, ZVK Crvena Zvezda and KVT Lokomotiv-N. Nanov. The top two ranked teams from each group will qualify for the Final 6.
Meanwhile, back in England, clubs have been enjoying the end of the summer season and the start of the start of the BWPL for some clubs.
Watford's 08/09 Junior team won the inaugural Hitchin 2007 tournament held at the Letchworth Outdoor pool. The team beat Chelmsford 7-0 and Enfield 6-0 in the Group stage before beating Colchester in the final 4-1.
Watford Ladies are in fine form with two wins from two in their final London League Division 1 matches against Croydon (16-4) and Marlins (9-8). The team also beat London Orca 13-1 in a friendly.
Sheffield ladies completed an exhausting but eventful pre-season training camp in Malta at the end of August. Based in St Paul's Bay at Sirens ASC pool the ladies played against all 4 Maltese Ladies teams and were even asked back for further training with Sirens ahead of the summer championship final weekend. This must have been useful as on Sheffield's return to the UK they learnt that Sirens had secured their third consecutive league title!
Sheffield were also able to catch the men's league final at the National pool, Tal-Qroqq, Msida against San Giljan and Neptunes. It was a fantastic experience to see how water polo is supported and appreciated in Malta. The team are very grateful to SPR Travel Malta who arranged everything in Malta and opened all these great opportunities up to the team.
Spalding Water Polo club held an outdoor water polo tournament to celebrate the end of their outdoor summer school that ran from June to September. The tournament was 'Polo for the Soul' and was a great success. The first picture below shows Dave Lord presenting the winners' trophy. The second picture shows Spalding's 'Top Guns', Owen Spencer and Gareth Lord.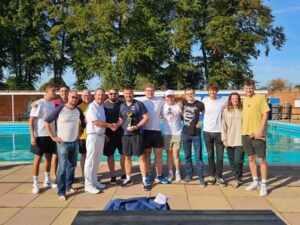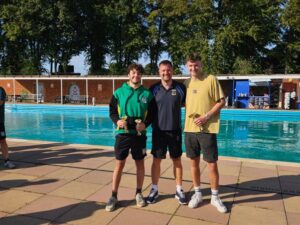 Well done to English polo side 'The Reunion', a mix of Croydon, Enfield and Exeter players who travelled to Spain's Costa Brava for the recent BIWPA WATKO Beach Tournament.  The team finished third in a tough international field that included 26 teams from 10 different countries, including Dubai, Scotland, France, Holland, Iran and Moldova.
Congratulations to Tyldesley who are the Ladies Northern League Champions of 2023 with 4 wins from 4. They defeated Sheffield (10-3), Morley (14-3), Liverpool (10-6) and Rotherham (7-3). Fantastic prelude to the new season.
Six teams took part in the Charlie Thurley Cup (Beckenham, Bexley, Croydon, Penguin, Sutton & Cheam and Watford) but there could only be one winner. Congratulations to Watford 1st team for winning the event with Penguin coming in second and Sutton & Cheam third.
Congratulations to City of Manchester who have topped off a very successful year by being crowned as Swim England North West's Water Polo Club of the Year and coach Izzy Howe is named as the North West Coach of the Year. Congratulations and very well deserved.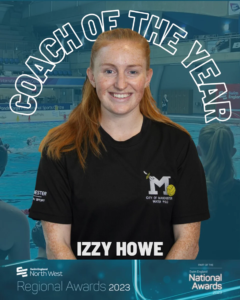 This month has also seen the start of the British Water Polo League Division 4 campaign. Birmingham defeated Tyldesley 14-1. Watford Saxons and Caledonia drew 14 all. Bridgefield defeated Avondale in a close match with the final score being 11-10. The British Army beat Newport 22 to 18.
On day two of the weekend, Caledonia lost to Avondale 7-11. Watford Saxons fell to Bridgefield 13-15 in a dramatic match in which Bridgefield were initially trailing 9-1. Newport defeated Tyldesley 17-11 and Birmingham beat the British Army 15-7.
That's it for this month's round up of club news. We are always happy to publicise news from clubs around England so if you have any news you would like to share, please let us know by emailing ah@waterpoloengland.org